Inspire Kids to Eat Healthy with "Little Belly Monster" Cookbook Stories:  A Nutritious & Delicious Food Series
Little Belly Monster Makes a Pizza and Little Belly Monster Makes French Toast, are the first two books of a unique, healthy food genre for kids: The Cookbook Story. Kid-favorite recipes are broken down into bite-sized stories that kids can easily follow, with the help of a healthy food-loving monster.
Recently shortlisted by Slate & NY Magazine's Strategist online, as one of, "The Best Cookbooks for Kids, According to Chefs With Children":
https://slate.com/human-interest/2018/07/best-cookbooks-for-kids.html
http://nymag.com/strategist/article/best-cookbooks-for-kids.html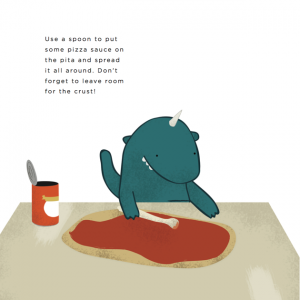 This series is a different approach to kids' healthy cooking and eating. Each book is a beautifully illustrated story of an adorable monster, who makes a single, step-by-step recipe. He uses lots of wholesome ingredients, while sharing every day cooking terms and safety tips.
Like adults drawn to the Food Network, kids are reading "Little Belly Monster" Cookbook Stories over and over again, as charming stories about the love of good food, while unwittingly learning invaluable life skills. Parents have the choice of using them as stand-alone, healthy picture books or as family cooking activities that will put a great dish on the table by the end.
The recipes are simple enough for parents and kids to cook any day of the week. For busy families, picky eaters or even more culinary adventurers:
There's a quick reference checklist of all the ingredients you need. Great as its own grocery shopping activity!
There are different food choices you can buy (like cheese that's already shredded!), to make the recipes that much easier.
There are alternate ingredient options in case you don't have them all, or, if you want to change it up to make your own, special version of the recipe.
For the gourmet, there are additional suggestions, like goat cheese or Challah bread.
"Little Belly Monster" Cookbook Stories have been praised by kids, parents, teachers and retailers alike.
"GREAT storybook and cookbook mom and kids will love." – Mommy Reasons
"It's a great way to get kids excited about eating healthy, and they won't even realize they're eating whole wheat pita and lots of veggies." – Plutos Platos
"…I know my own cookbook collection will be enriched with Margaret John's clever series." – Gabriela Perdomo, EcoParent Magazine
Now, let's start cooking with, Little Belly Monster Makes a Pizza and Little Belly Monster Makes French Toast.  I hope you enjoy the books.
"Little Belly Monster Makes a Pizza"                                                                               ISBN:   9780986942402 • Cover Price:  $12.99 (paperback & ebook)
"Little Belly Monster Makes French Toast"                                                                         ISBN:  9780986942426 • Cover Price:  $12.99 (paperback)
For review copies, more information, book events or interview requests, please contact:
Belly Productions Inc.                                                                                                       Email:  books@littlebellymonster.com
About the Author
Margaret John grew up in her family's restaurant, in a small Ontario town. Now an award-winning, multimedia producer and the mother of two young children in Toronto, Canada, she happily spends hours cooking, eating and testing new recipes in her kitchen. Her children are progressing well as budding foodies, eating a wide variety of healthy foods and starting their very own cooking endeavors.
About the Illustrator
Sarah Kim is an accomplished illustrator and designer based out of Toronto, Canada. Whether she's working on editorial, publishing, installations or lettering, her style has been praised as approachable, clean and modern. She finds inspiration in everything from wanderlust or a good pop song, to a garden growing out of control. She is a graduate of Ryerson University's New Media fine arts program and also continues to develop her exhibition work.