The idea of cooking with your kids seems idyllic in your mind.  Chestnuts roasting on an open fire.  Laughing and tossing flour at each other, as jazz music plays in the background.  And then 30 minutes later…voila, the perfect roast.
Then you actually start cooking.  The screaming begins.  The crying.  The frustration.  And that's just from the adults.
So what can you do to make this more like your dream than your worst nightmare?  Well, a little preparation goes a long way.  Make your time together more enjoyable with these simple tips:
1.  For lower commitment than a whole recipe, get your kids to help with one or two little parts of the meal, like washing fruit, taking the stems off beans or cracking eggs.  They still learn something, they feel helpful and they just like being with you!
2.  If you're feeling more ambitious, pick a recipe out before you tell them about your activity together.  Or pick a recipe with them the day before.  This way, you can check that you have all the ingredients before you start and you won't have an argument about which recipe to make, as your stomachs start to grumble.
3. Gather all the ingredients together first because even though you think you have enough milk, you may not.  This is bad news half way through a recipe.
4.  Pick an age/skill appropriate recipe.  If you are just starting to cook together or if your kids are young, make something simple.  Or choose a dish that you already know how to cook well.
5.  Make sure you have enough time.  Getting the kids to help will naturally take longer than if you were to make it on your own.  Expect this.
6.  Let them taste things as you go.  I find this especially true for fruits and veggies.  It's a great way to sneak some extras into them, before they even make it to the meal.  It's also a great way to introduce different ingredients.
7.  Don't be afraid of trying something new.  If they have a hand in preparing it, they will be more excited about trying the finished product.
8.  Get kid friendly utensils, measuring cups, cutting boards and aprons.  It makes them feel like a real cook.
9.  Expect that things may go wrong. Cooking takes time and practice.  Remember that it's as much about quality time together as the meal itself.  Guide them through it.  It gets easier every time.
10.  And most importantly, enjoy!
For more kid-friendly tips, recipes and cookbook stories, check out the "Little Belly Monster" book series.  Pizza and French Toast recipes now available online at Amazon, Indigo and Barnes & Noble.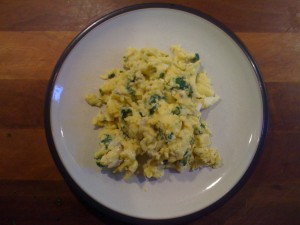 My 9 year old's first start to finish attempt at making scrambled eggs (with spinach and flax).