After travelling back and forth on various road trips with the kids over the years, I've discovered that the key utensil for healthy car eating is the road cup.  Yes, it's that simple.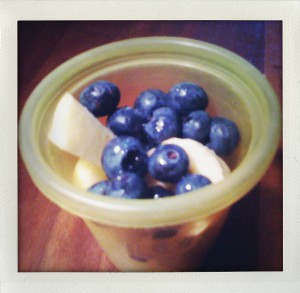 I now always travel with a set of reusable, stackable plastic cups, enough for each passenger in the car (or plane or train).  It makes life so much easier.  The cup is perfect for holding a decent amount of food, managing portion control and has the flexibility of sharing lots of small, healthy bits, without hands flying everywhere and food all over the ground.
Depending on how long of a trip, the kids seem to be hungry practically every hour or 150 km (how is it possible to get that hungry just sitting there?).  This can add up to a lot of calories and junk food, if you're not careful.  For those long rides, pass out the nutritious treats like a layered cake – just one or two things at a time so they don't get bored of any one snack, plus you can control the timing and amounts of each layer.
As an opening strategy, since I'm the one in the passenger's seat, doling out the snacks, I always start with the cup-o-veggies first.  Like in any meal (even the well-balanced road trip meal), they're always the toughest sell.  But when you start with the veggies, it gets them out of the way, the kids are at their hungriest so they will complain the least, and, they know that they need to get through that first cup, before they get to the other good stuff.  After this first course, you can relax.  The other snacks can be distributed in almost any order because you know they will get eaten.
The secret to a healthy road trip, and really, any good trip, is just a little prep before you go.  Thinking ahead and doing a little chopping beforehand will go a long way.  Here are some healthy snack ideas that are great for the road, as long as you have that cup:
Veggies
Baby carrots
Cut cucumbers, red peppers or celery
Hummus for dipping – also good for protein and fiber (bring a spoon for scooping)
Fruit
Berries
Apple or peach slices
Cut pineapple or melon
Dairy
Note:  If you're travelling for more than an hour or so, make sure to keep perishables cold with an ice pack.
Healthy Snack Foods
Popcorn
Goldfish crackers
Pretzels
Raisins, dried mangoes or other 100% fruit snacks
Nuts
Drinks
You don't need to get fancy.  Everyone could use more water to keep hydrated, it won't spoil, has no sugar or calories and, unlike juice or soft drinks, the kids likely won't drink it so fast that you have to pull over for pee stops every half hour.  I love the Thermos insulated, stainless steel water bottles.  Add a couple of ice cubes and the water stays cool and refreshing for hours.
Enjoy the ride.