I've got nothing against carrot sticks.  Or cucumbers, for that matter.  In fact, the kids and I love them – plain, with hummus, in salads…you name it, we've eaten it.  They're both great for snacking.
But after so many play dates, soccer practices and on-the-run snacks, even a veggie lover can get tired of the same old, same old.  So what's a yummy little veg that's off the beaten track and easy to make?  One word:  edamame.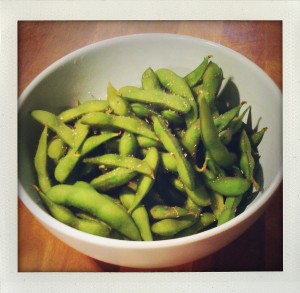 For those of you who don't know what edamame is, it looks like a chunky pea pod.  But it's actually a young soybean that's full of vitamins and delicious to eat.  They're becoming so popular that they're cropping up in frozen food isles at grocery stores everywhere.  And the added bonus is, they're simple to make. You pop them in a pot of boiling, salted water, wait for it to come back to a boil, drain and add chunky salt on top.  Done.  5 minutes.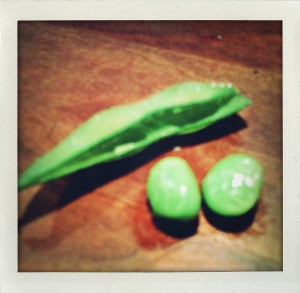 And eating them is half the fun.  You put the warm, salted pod in your mouth and pull out the soy beans with your teeth (discard the pod).  The kids love them.
Make extra – store them in the fridge and eat them cold the next day. Great as a snack or a quick side dish.
For more info on this little super food, check out: en.wikipedia.org/wiki/edamame